Prints And Patterns: Adding Personality To Your Outfits
Prints and patterns have the power to transform your outfits from ordinary to extraordinary, adding a touch of personality that truly sets you apart. They allow you to express your individuality and showcase your unique style, making a bold statement without saying a word.
In this article, I will show you how prints and patterns can elevate your fashion game, helping you create eye-catching looks that exude confidence and charm. From embracing bold stripes to playing with playful polka dots, experimenting with intricate florals to mixing and matching different prints, the possibilities are endless.
Not only can you incorporate prints into your clothing choices, but also into accessories like scarves, handbags, and shoes. And let's not forget about the power of statement print dresses or printed tops that instantly dress up any outfit.
So join me on this journey as we explore the world of prints and patterns, discovering ways to add flair and finesse to our everyday ensembles. Let's make our mark with style!
Key Takeaways
Prints and patterns can transform outfits and add personality
Mixing and matching different prints creates visually captivating and unique ensembles
Accessories and footwear with prints elevate style and add personality to outfits
Embrace prints and patterns to create eye-catching looks that reflect your unique personality
Embrace Bold Stripes
Embrace those bold stripes and add some serious personality to your outfits! Playful geometric prints are a great way to inject a fun and vibrant touch into your wardrobe. Whether it's a striped blouse, a dress, or even a pair of pants, these patterns instantly make a statement. The beauty of bold stripes is that they can be easily styled with other pieces in your closet.
For a classic nautical look, opt for navy and white striped tops paired with high-waisted jeans or shorts. This timeless combination exudes sophistication and never goes out of style. To keep the outfit fresh and modern, add some colorful accessories like red sandals or a yellow handbag.
If you're feeling more adventurous, mix different widths of stripes for an edgy ensemble. Try pairing wide-striped pants with a slim-striped top for an eye-catching contrast. Don't be afraid to experiment with colors either – bold hues like hot pink or electric blue can take your stripe game to the next level.
Incorporating bold stripes into your outfits is all about expressing yourself confidently while staying on-trend. So go ahead, embrace those playful geometric patterns and let them show off your unique sense of style!
Play with Playful Polka Dots
Indulge in the whimsical charm of playful polka dots, as they dance across your wardrobe like a lively confetti celebration. There's something about polka dots that instantly adds a touch of fun and playfulness to any outfit. Whether it's a classic black and white polka dot dress or a colorful blouse with scattered dots, this print is sure to turn heads and make you feel like the life of the party.
One way to embrace the playful nature of polka dots is by opting for playful dot dresses. These dresses come in various styles and lengths, allowing you to find one that suits your personal taste and body shape. Pair them with some cute heels or sandals, and you're ready for a day out or a night on the town.
If you're not ready to fully commit to wearing polka dots all over, incorporating them through accessories is another great option. A simple scarf with small polka dots can add just the right amount of whimsy to an otherwise plain outfit. You can also opt for polka dot handbags or shoes for a subtle yet stylish statement.
So why not add some personality to your outfits with playful polka dots? They are versatile, timeless, and always make a fashionable statement. Embrace this charming print and let it bring joy into your wardrobe like never before!
Experiment with Intricate Florals
Discover the enchanting world of intricate florals and let them transport you to a whimsical garden filled with vibrant colors and delicate petals. Here are four ways to incorporate this trend into your wardrobe:
Embrace bold geometrics: Mix intricate floral prints with bold geometric patterns for a modern twist. Pair a floral blouse with a striped skirt or add a graphic scarf to your floral dress.
Play with abstract patterns: Experiment with abstract floral designs that combine different elements like watercolor brushstrokes or digital effects. These unique patterns add an artistic touch to any outfit and make a statement.
Layer with solids: When wearing intricate florals, balance the look by layering it with solid-colored pieces. A simple blazer or cardigan in a coordinating color can help anchor the outfit and prevent it from becoming overwhelming.
Accessorize wisely: Add accessories that complement the intricate florals without overpowering them. Opt for delicate jewelry, such as dainty earrings or a thin gold necklace, and choose handbags or shoes in neutral tones to let the prints shine.
Incorporating intricate florals into your outfits allows you to express your personality while staying on-trend. So go ahead, embrace this playful print and create looks that are uniquely yours!
Mix and Match Different Prints
Explore the exciting world of mixing and matching different prints to create a visually captivating and unique ensemble that will turn heads. When it comes to fashion, there are endless possibilities for creating eye-catching outfits by combining different textures and incorporating animal prints.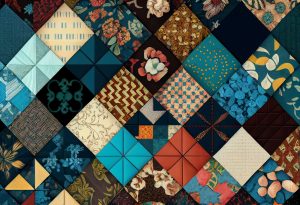 Mixing prints is all about finding the perfect balance between boldness and harmony. Start by choosing two or three prints that share a common color palette or theme. For example, you can pair a striped top with a floral skirt, or combine a polka dot blouse with plaid pants. The key is to make sure that the prints complement each other without overpowering the overall look.
To add even more personality to your outfit, experiment with different textures. Mix fabrics like silk, lace, or leather to create an interesting contrast that adds depth and dimension to your ensemble. This combination of prints and textures will make your outfit stand out from the crowd.
Don't be afraid to incorporate animal prints into your mix-and-match game. Leopard print, zebra stripes, or snake patterns can add a touch of wildness to any outfit. Use these prints as statement pieces, such as a leopard print coat over a monochromatic dress, or opt for smaller animal print accessories like belts or scarves.
Mixing and matching different prints is an art form that allows you to express your individuality through fashion. By combining different textures and incorporating animal prints into your outfits, you can create visually captivating ensembles that are truly one-of-a-kind. So go ahead, embrace your creative side and start experimenting with prints today!
Incorporate Prints into Accessories
Incorporating prints into your accessories can add a vibrant and playful touch to your overall look. Mixing prints with solids is a great way to create visual interest and make a statement. For example, pairing a floral print scarf with a solid-colored dress can instantly elevate your outfit and showcase your personal style.
Another fun way to incorporate prints into your accessories is through footwear. Wearing printed shoes can be a bold fashion choice that adds personality to any outfit. Whether it's animal print flats or floral patterned sneakers, these statement shoes can instantly transform a simple jeans-and-top combo into a stylish ensemble.
To give you some inspiration, here's a table showcasing different ways you can mix and match prints in both accessories and footwear:
| Accessories | Footwear |
| --- | --- |
| Striped handbag | Leopard print heels |
| Polka dot headband | Floral print boots |
| Paisley scarf | Plaid sneakers |
By incorporating prints into your accessories and footwear, you can effortlessly elevate your style while adding an extra touch of personality to every outfit. So go ahead, experiment with different patterns and unleash the confident fashionista within you!
Dress Up with Statement Print Dresses
Get ready to turn heads and make a bold fashion statement with statement print dresses. These eye-catching dresses are the perfect way to add personality and flair to your outfit. One of the best things about statement print dresses is that they allow you to mix prints effortlessly. Don't be afraid to experiment with different patterns and colors – the bolder, the better! You can create a truly unique look by layering different prints together or even opting for a dress that features multiple prints in one piece.
To complete your outfit, don't forget to accessorize with patterns. Adding accessories such as scarves, belts, or handbags in complementary prints can take your look from ordinary to extraordinary. The key is to choose patterns that enhance and complement the print on your dress without overwhelming it.
When wearing a statement print dress, it's important to let the dress be the star of the show. Keep your makeup and hairstyle simple, allowing the dress to take center stage. A nude lip and minimalistic jewelry will ensure that all eyes are on your fabulous dress.
So go ahead and embrace the power of statement print dresses! Mix prints fearlessly, accessorize boldly, and get ready for all those compliments coming your way. With these stunning dresses, you'll always stand out from the crowd while feeling like you belong in the world of fashion-forward individuals.
Create Eye-Catching Looks with Printed Tops
Make a bold statement and turn heads with printed tops that are sure to catch the eye and leave a lasting impression. Stylish graphic tees are a great way to add personality to your outfit. Whether you opt for a vintage band tee or a modern design, these tops can instantly elevate any look. Pair them with jeans and sneakers for a casual yet fashionable vibe, or dress them up with a skirt and heels for a more polished ensemble.
Another trendy option is incorporating animal prints into your wardrobe. From leopard spots to zebra stripes, these prints can add an element of fun and fierceness to your outfit. Opt for a top with an all-over animal print or go for something more subtle like a printed pocket or collar detail.
When styling printed tops, it's important to keep the rest of your outfit relatively simple. Let the top be the focal point by pairing it with neutral bottoms and minimal accessories. This will allow the print to really stand out and make a statement.
Printed tops are an easy way to add personality to any outfit. Whether you choose stylish graphic tees or incorporate animal prints, these tops are sure to catch attention and make you feel confident in your style choices. So go ahead, embrace prints and patterns, and create eye-catching looks that reflect your unique personality!