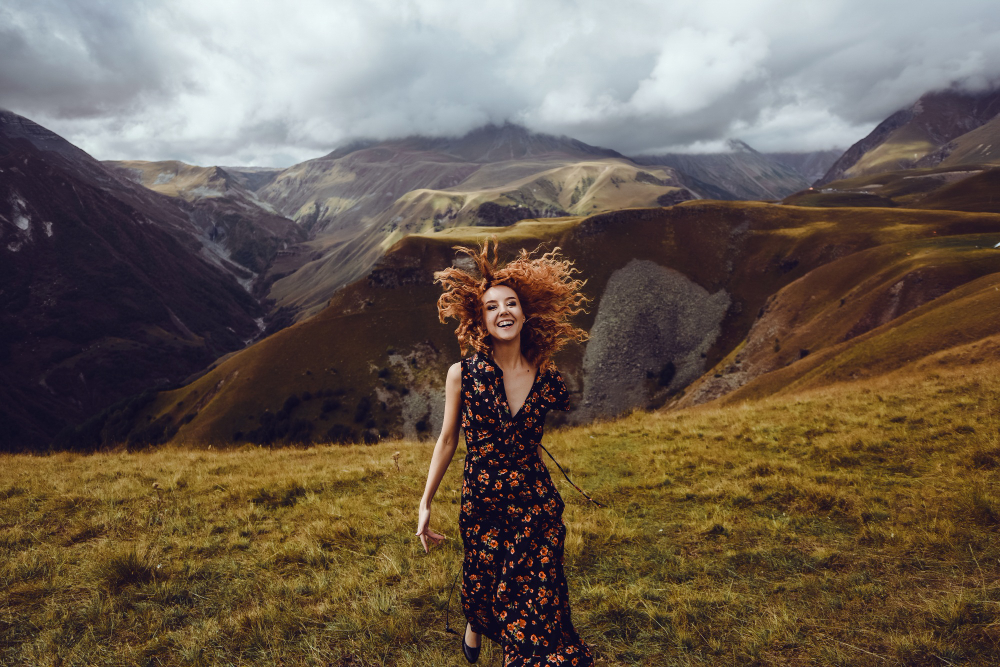 Dressing For Irish Weather: Fashion Tips For Every Season
Ireland is a country that's renowned for its stunning landscapes, rich history, and lively culture. However, it's also known for its unpredictable weather. The Irish climate can be likened to a symphony orchestra – sometimes it's soft and gentle like a violin, and at other times it roars like thunder. As such, dressing appropriately for the weather in Ireland can be quite challenging.
Whether you're a local or just visiting, dressing for Irish weather requires careful consideration of various factors such as temperature changes, wind speed, and precipitation levels. In this article, we'll provide you with fashion tips for every season so that you can stay trendy and comfortable throughout the year. From winter gear to summer outfits and everything in between – we've got you covered!
Understanding Ireland's Weather Patterns
An understanding of Ireland's weather patterns is crucial in order to dress appropriately for each season. The Irish climate changes frequently, with rain and wind being common occurrences throughout the year. Summers are mild with temperatures typically ranging from 18 to 20 degrees Celsius, while winters can be wet and chilly with temperatures dropping as low as -5 degrees Celsius.
Such weather patterns have a great impact on fashion trends in Ireland. Rain jackets, umbrellas, and waterproof boots are staples during the rainy seasons, which span from autumn through winter into early spring. Layering is also key during these months as it allows one to adjust their clothing according to temperature fluctuations. However, summer months call for light fabrics such as cotton and linen along with breathable footwear like sandals or sneakers.
Now that we have an idea of how Ireland's weather affects fashion trends let us dive deeper into dressing for winter.
Dressing for Winter
Despite the cold and harsh climate, winter in Ireland presents a chance for individuals to showcase their creativity and style through layering and accessorizing. Winter fashion trends in Ireland typically involve warm outerwear such as woolen coats, puffer jackets, and parkas. However, staying warm doesn't have to mean sacrificing style. Here are some tips for staying warm while looking stylish during the winter months:
Layering is key: Start with a base layer such as a thermal top or leggings and add layers on top such as a sweater or cardigan. Finish off with a statement coat or jacket.
Accessorize with scarves, hats, and gloves: Not only do they add extra warmth but they also add an element of style to any outfit.
Don't be afraid to experiment with color and texture: Winter fashion doesn't have to be dull. Play around with different colors and textures such as faux fur or velvet.
Staying comfortable in spring means transitioning your wardrobe from heavy fabrics to lighter materials that can easily be layered.
Staying Comfortable in Spring
As the winter season fades away, it's time to prepare for spring and the unpredictable weather that comes with it. To stay comfortable during this season, it is essential to dress appropriately for the rain and wind that are common in many regions. Dressing in layers can help regulate body temperature as temperatures fluctuate throughout the day, while incorporating bright colors and patterns can add a fun and fashionable touch to any outfit.
Preparing for rain and wind
To ensure you're prepared for the rainy and windy Irish weather, it's important to invest in a sturdy raincoat and waterproof boots that can withstand the elements. Don't let the weather dampen your style! Here are some tips for staying fashionable in a downpour:
Choose bright colored raincoats or accessories to brighten up gloomy days.
Opt for materials like nylon or Gore-Tex that repel water.
Add an oversized umbrella to your outfit as a statement accessory.
With these essentials, you'll be ready to take on any rainy day with confidence and style. However, dressing for Irish weather isn't just about being rain-ready. It's also crucial to know how to layer up properly during those unpredictable weather changes.
Dressing in layers
Layering clothing is a practical technique for achieving warmth and comfort in changing weather conditions. It involves wearing multiple layers of clothing that can be added or removed as needed, depending on the temperature and other environmental factors. The key to effective layering is to choose fabrics that are light, breathable, and moisture-wicking. This allows each layer to work together to regulate body temperature, without adding bulk or restricting movement.
Layering techniques can vary depending on the season and activity level. For example, in colder weather, it's important to start with a base layer made from materials like wool or synthetic blends that trap heat close to the skin. You may then add a middle layer made from fleece or down for insulation. Finally, an outer layer made from waterproof and breathable fabric will protect you from wind and rain while allowing excess heat and moisture to escape. In warmer weather, you may opt for lighter fabrics like cotton or linen in your layers.
Incorporating bright colors and patterns into your layered outfits is an easy way to add some personality and style while still being practical. By choosing pieces with complementary colors or bold prints, you can create a cohesive look that stands out from the crowd. Additionally, accessories like scarves or hats can also add a pop of color while serving a functional purpose in protecting against the elements.
Incorporating bright colors and patterns
As we previously discussed, dressing in layers is essential for navigating the unpredictable Irish weather. But layering doesn't have to mean sacrificing style – incorporating bright colors and patterns can add a pop of personality to any outfit while still allowing for practicality.
Mixing textures is one way to incorporate bold hues without overwhelming a look. Pairing a chunky knit sweater with a silky patterned blouse adds dimension and interest while keeping you warm and comfortable. Layering with accessories such as scarves, hats, or statement jewelry can also elevate an outfit while providing extra warmth. Don't be afraid to mix and match different materials and prints – the key is finding balance between statement pieces and neutral basics.
Experiment with mixing textures
Add pops of color through accessories
Try pairing bold prints with simple staples
Don't shy away from layering multiple patterns at once
By embracing bright colors and playful prints, dressing for Irish weather can become less daunting. However, as temperatures rise in the summer months, it's important to adapt your wardrobe accordingly…
Dressing for Summer
Summer in Ireland can be unpredictable, with occasional rain and chilly winds, so it is important to choose breathable fabrics that can easily adapt to sudden temperature changes. When dressing for summer in Ireland, it's essential to consider the latest fashion trends while staying comfortable. Some of the popular summer fashion trends include pastel colors, floral prints, oversized hats, and statement sunglasses.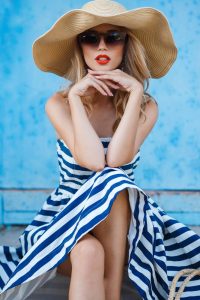 When it comes to beachwear essentials for Irish summers, there are a few must-haves that every person should have in their wardrobe. A swimsuit is an obvious choice but don't forget about a cover-up or kaftan for when you're not swimming. A wide-brimmed hat will protect your face from the sun and add a touch of glamour to your beach look. Finally, a pair of flip-flops or sandals will keep your feet cool and comfortable as you walk on sandy beaches.
As summer comes to an end in Ireland, it's time to start preparing for autumn. While we may experience some warm days throughout September and early October, the weather typically starts cooling down during this time. Therefore, it's important to invest in transitional pieces such as lightweight jackets or cardigans that can be layered over tops or dresses.
Preparing for Autumn
Autumn in Ireland brings about a shift in wardrobe choices, with the need for warmer fabrics and thicker layers to combat the cooler temperatures. As the leaves begin to turn golden brown, it's time to put away those light summer clothes and embrace the cozy warmth of autumn fashion trends. Here are four transitional clothing pieces that will help you navigate this seasonal change:
Oversized Sweaters: The perfect way to stay warm while still looking stylish is by investing in an oversized sweater. Not only do they provide ample coverage, but they're incredibly versatile as well. You can pair them with leggings or slim-fit jeans for a casual look, or dress them up with a skirt and boots.
Trench Coats: A classic trench coat is a must-have item for any autumn wardrobe. Not only does it keep you dry during those inevitable rainy days, but it also adds an element of sophistication to your outfit.
Scarves: Scarves are not only functional but fashionable too! They add a pop of color or texture to any outfit while keeping you snug and cozy.
Ankle Boots: Ankle boots are versatile enough to be dressed up or down depending on the occasion. They look great paired with skinny jeans or dresses and tights alike.
As we move into accessorizing for all seasons, don't forget that these transitional clothing pieces can still be worn throughout winter as well!
Accessorizing for All Seasons
Accessorizing for all seasons is an essential aspect of fashion that not only adds style but also serves a practical purpose. Hats and scarves are perfect accessories to keep you warm during chilly autumn or winter days, while sunglasses protect your eyes from harmful sun rays during summer. Additionally, umbrellas and rain gear are must-haves in rainy weather to avoid getting soaked. As the weather changes, so should our accessories, making them an integral part of every season's wardrobe.
Hats and scarves for warmth
To combat the chill of Irish weather, incorporating hats and scarves into your outfit can provide both warmth and style. When it comes to hat styles, there are various options to choose from, including wool beanies, berets, fedoras, and bucket hats. Wool beanies are a classic choice for winter as they keep your head warm while adding a touch of coziness to your look. Berets add a chic Parisian flair to any outfit while also keeping you warm in cooler weather. Fedoras are a versatile option that can be worn year-round and come in various materials such as wool or straw. Bucket hats have made a comeback recently and add an element of playfulness to any outfit.
When it comes to scarves, the type of material is crucial for providing warmth without sacrificing style. Cashmere scarves are luxurious and soft against the skin while also being incredibly warm. Wool blend scarves are another great option for colder months as they offer insulation while still being breathable. Silk or cotton scarves work well for milder temperatures and can add a pop of color or pattern to your outfit.
As essential as hats and scarves may be during colder seasons, sunglasses play an equally important role in protecting your eyes from harmful UV rays during sunny days.
Sunglasses for sun protection
Sunglasses are an indispensable accessory for safeguarding one's eyes from the detrimental effects of UV radiation, especially during sunny days. Apart from protecting the eyes, sunglasses also serve as a fashion statement and can add a touch of personality to any outfit. Sunglasses styles have evolved over the years, with designers creating unique shapes and colors to cater to different preferences.
Some of the best sunglass brands include Ray-Ban, Oakley, Maui Jim, and Persol. These brands offer various styles ranging from classic aviators to modern rectangular frames. Additionally, sunglasses come in different lens colors such as grey, brown, green or mirrored lenses that provide extra protection against glare. Investing in a good pair of sunglasses not only ensures eye health but also elevates one's style quotient.
Transitioning into the subsequent section about 'umbrellas and rain gear for wet weather,' it is essential to note that dressing appropriately for Irish weather requires foresight since the country experiences frequent rainfall throughout the year.
Umbrellas and rain gear for wet weather
When it comes to navigating wet weather, umbrellas and rain gear are a practical and prudent choice. Stylish umbrellas can be both fashionable and functional, offering protection from the rain while also adding a pop of personality to any outfit. From classic black umbrellas to playful patterns and prints, there are endless options on the market for those looking to stay dry in style.
In addition to umbrellas, waterproof footwear is essential for keeping feet dry during rainy weather. From stylish rain boots to sleek waterproof sneakers, there are plenty of options available that combine fashion and function. Investing in quality waterproof footwear not only ensures comfort during wet weather but also protects expensive shoes from damage caused by water. With these essentials in hand, dressing for rainy days can be both practical and stylish.
Transitioning into the subsequent section about styling for special occasions: While staying dry during wet weather is important, it's equally crucial to dress appropriately for special occasions regardless of the forecast.
Styling for Special Occasions
Attending special occasions in Ireland requires careful consideration of the weather, as well as the appropriate attire to ensure both comfort and style. For formal events such as weddings or black-tie affairs, it is best to opt for a classic and timeless look. Men can never go wrong with a sleek suit in neutral colors such as navy or black, paired with a crisp white shirt and polished shoes. Women can choose from elegant dresses or separates that are not too revealing but still show their personal style. It is also important to keep in mind the potential for rain and chilly winds by adding layers like a tailored coat or shawl.
For casual outings like garden parties or outdoor concerts, dressing comfortably while still looking fashionable should be your goal. Keep it simple with lightweight fabrics like linen and cotton, paired with comfortable footwear such as loafers or sandals. Accessorize with statement jewelry pieces that add personality to your outfit without overwhelming it. Don't forget to bring along an extra layer just in case the weather turns cooler.
When styling for special occasions in Ireland, always remember that less is often more when it comes to accessories and makeup. Opt for natural-looking makeup paired with soft waves or an effortless updo for hair that will withstand any weather condition. Finally, don't forget your umbrella! Choose one that complements your outfit instead of detracting from it – after all, you want to look stylish even when shielding yourself from the rain!
Frequently Asked Questions
What are some specific clothing items to avoid in Irish weather?
As the Irish weather can be unpredictable, it is advisable to avoid certain clothing items such as light materials that offer little insulation, bulky jackets that restrict movement and bright colors that attract sunlight. Layering techniques, neutral color palettes and waterproof accessories are recommended for comfort and functionality.
How can I dress stylishly while still being prepared for unpredictable weather changes?
Stylish layering with weather resistant fabrics is key to dressing for unpredictable Irish weather. Opt for lightweight jackets, waterproof boots and accessories that can be easily removed or added to adapt to changing conditions while keeping style intact.
Are there any cultural considerations to keep in mind when dressing for special occasions in Ireland?
One must be mindful of cultural etiquette when dressing for special occasions in Ireland. Though traditional clothing is not mandatory, it can enhance the experience. Incorporating Irish designs and materials into one's outfit can also show respect for the culture and create a sense of belonging.
What are some common mistakes people make when dressing for Irish weather?
Common mistakes when dressing for Irish weather include not using layering techniques and choosing inappropriate materials. Layering allows for flexibility while material choice should prioritize warmth, waterproofing, and breathability.
Are there any eco-friendly and sustainable clothing options recommended for dressing in all seasons in Ireland?
Eco-friendly clothing brands and sustainable fashion practices are gaining popularity in Ireland. Brands like Patagonia, Stella McCartney, and Everlane offer stylish options for all seasons while reducing environmental impact.