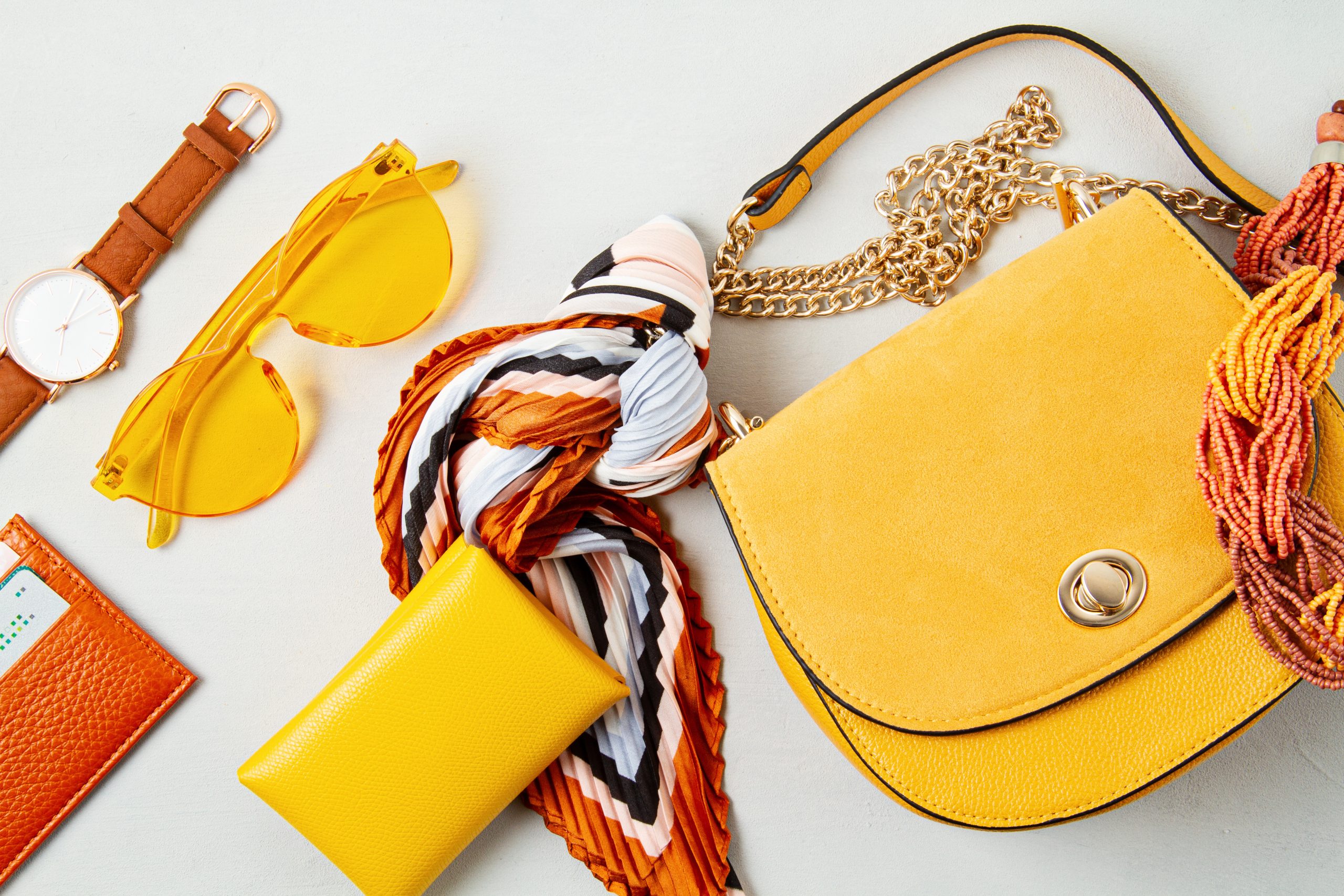 10 Must-Have Fashion Accessories For The Season
The world of fashion is constantly evolving, and it can be challenging to keep up with the latest trends. However, one way to stay on top of your fashion game is by accessorizing appropriately. Accessories have the power to transform any outfit and take it to the next level. From statement jewelry pieces to chic handbags, there are countless options available for you to choose from.
In this article, we will discuss ten must-have fashion accessories for the season that will elevate your style game effortlessly. These accessories are versatile and can be paired with multiple outfits, making them practical investments for your wardrobe. Whether you're looking for a new way to spruce up an old outfit or want to add some personality to a basic ensemble, these accessories have got you covered. So sit back and get ready to discover some of the hottest accessory trends for this season!
Statement Jewelry
Statement jewelry has become a popular trend this season, with bold and eye-catching pieces adding a touch of glamour to any outfit. These accessories are perfect for those who want to elevate their look without too much effort. Statement jewelry can be worn in various ways, such as layering necklaces or stacking bracelets. It's also versatile enough to be dressed up or down, making it perfect for any occasion.
For formal events, statement jewelry can add an extra touch of elegance to an outfit. A simple dress paired with a statement necklace or earrings instantly elevates the overall look. When accessorizing for formal occasions, it's important to keep the rest of the outfit minimal and let the jewelry do the talking.
There are endless ways to style statement jewelry and incorporate it into your wardrobe this season. From chunky chain-link necklaces to oversized hoop earrings, there is something for everyone. Now let's move on to another must-have accessory for the season- trendy hats!
Trendy Hats
One notable trend in headwear this season includes the emergence of chic and stylish hats. From bucket hats to fedoras, there are a variety of top hat styles that are taking center stage in fashion. The best part about these trendy hats is that they can be paired with different outfits to add an extra layer of sophistication or edginess.
For those who prefer a more casual look, bucket hats are a great option. They come in a range of colors and materials, making them versatile enough to be worn with anything from jeans and a t-shirt to a cute sundress. On the other hand, if you're looking for something more sophisticated, fedoras are perfect for dressier occasions. Pair them with tailored pants or a midi skirt to elevate your outfit instantly.
In addition to being stylish accessories, hats also serve as functional pieces during the colder months. Not only do they keep your head warm, but they also offer protection from the sun's harmful rays during sunny days. As we transition into autumn and winter, pairing these trendy hats with chunky boots will make for the ultimate fashionable statement.
Chunky Boots
Chunky boots are a popular footwear choice this year, with their sturdy and practical design making them ideal for both fashion and function. These boots have been spotted on runways and in street style looks alike, proving that they can be dressed up or down depending on the occasion. Styling tips include pairing them with an oversized sweater and leggings for a cozy yet chic look, or with a flowy midi dress for a more romantic vibe.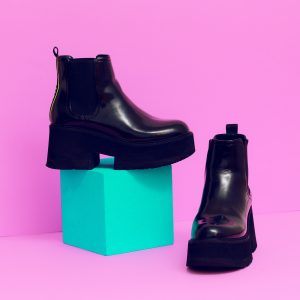 When it comes to choosing the best brands for chunky boots, there are plenty of options to consider. Dr. Martens is known for their iconic combat boots that come in various colors and patterns, while Timberland offers classic work boots that are perfect for outdoor activities. For those looking for something more high-end, Balenciaga's Triple S sneakers have become a cult favorite among fashion enthusiasts.
Next up on our list of must-have fashion accessories are oversized sunglasses. These statement-making shades not only protect your eyes from the sun's harmful rays but also add an instant touch of glamour to any outfit.
Oversized Sunglasses
Oversized sunglasses are a versatile accessory that can elevate any outfit, providing both practical and aesthetic benefits with their ability to shield the eyes from sunlight while adding a touch of sophistication to one's look. Top brands for oversized sunglasses include Gucci, Chanel, and Versace. Each brand offers unique designs ranging from classic styles to more statement-making pieces. To style oversized sunglasses with different outfits, consider pairing them with a sleek jumpsuit or maxi dress for a chic daytime look. For a more casual ensemble, pair them with denim cutoffs and a graphic tee.
In addition to their functionality and fashion-forward appeal, oversized sunglasses have also become synonymous with Hollywood glamour and celebrity culture. Celebrities like Jennifer Lopez and Kim Kardashian have been spotted wearing oversized shades on numerous occasions, solidifying their status as an iconic accessory in the fashion world. Whether you're looking to add some pizzazz to your everyday attire or simply want to emulate your favorite celebrity's style, oversized sunglasses are an easy way to achieve both.
Transitioning seamlessly into our next topic about colorful scarves, it's worth noting that these two accessories can work wonders when paired together. A brightly colored scarf can complement the neutral tones of black or tortoise shell frames while adding an extra pop of color to your outfit. Consider experimenting with different prints and textures for an even bolder statement look.
Colorful Scarves
Colorful scarves are a versatile accessory that can add a pop of color and texture to any outfit. Printed scarves, such as those with floral or geometric patterns, can be paired with solid-colored tops or dresses for a chic look. Blanket scarves, on the other hand, are perfect for colder weather and can be worn in various ways to create different styles. Lastly, silk scarves offer a touch of elegance and sophistication to any ensemble and can be tied around the neck or used as a headband.
Printed Scarves
Printed scarves bring a playful and patterned touch to any outfit, perfect for the season. As an accessory that instantly elevates your look, printed scarves are versatile and can be worn in creative ways. For instance, you can wear a printed scarf around your neck or tie it onto your bag for a pop of color. You can also use it as a headband or belt to add interest to an otherwise plain outfit.
When choosing the best printed scarf patterns for different outfits, consider pairing bold prints with neutral clothing items for balance. Alternatively, you can opt for more subtle prints when wearing statement pieces like graphic tees or bright pants. Some popular printed scarf patterns this season include animal prints, florals, polka dots and stripes.
Blanket scarves offer another cozy option to layer on colder days without sacrificing style.
Blanket Scarves
Blanket scarves offer a warm and cozy layering option for the colder months, perfect for bundling up while still looking stylish. These oversized scarves are versatile and can be styled in various ways to suit any outfit. One popular way to style blanket scarves is by draping them over the shoulders and belting them at the waist, creating a chic poncho-like look. Another creative way is by folding them in half diagonally, wrapping them around the neck, and tying the ends in a loose knot or bow.
When it comes to choosing materials for cozy blanket scarves, wool is an excellent choice as it provides warmth and insulation while being soft on the skin. Cashmere is another luxurious option that offers unparalleled softness and warmth. For those who want something more affordable, acrylic or polyester blends can also work well as they mimic the texture of wool without breaking the bank. Overall, blanket scarves are a must-have accessory for anyone looking to stay fashionable while keeping warm during chilly weather.
Transitioning into discussing silk scarves: On the other hand, silk scarves offer a lightweight option that can elevate any outfit with their elegant sheen and intricate designs.
Silk Scarves
Silk scarves are a versatile accessory that can add a touch of sophistication to any outfit with their delicate texture and intricate patterns. They can be worn in various ways, making them an essential fashion accessory for the season. From adding color to a neutral outfit to tying it around your neck or hair, silk scarves are perfect for elevating any look.
One creative way to tie silk scarves is by folding the scarf into a triangle and tying it loosely around your neck. This style is perfect for adding a pop of color to your outfit or giving it an elegant touch. Another way is by using the scarf as a headband, which can help keep stray hairs away from your face while also adding style. When matching silk scarves with different outfits, consider pairing bold prints with solid-colored clothing or vice versa. This will help create balance and prevent the outfit from looking too busy. Overall, silk scarves are an excellent addition to any wardrobe and offer endless possibilities for creativity when styling them.
As we move on to our next topic about stylish belts, keep in mind that accessories play a crucial role in enhancing one's overall look. Just like how silk scarves can transform an outfit, belts can also add shape and structure while creating visual interest.
Stylish Belts
Stylish belts are a must-have fashion accessory that can transform any outfit. Wide belts, chain belts, and braided belts are some of the key styles that have gained popularity recently. With their versatility and ability to cinch in the waist or add a touch of edginess to an outfit, these belt styles can be dressed up or down depending on the occasion.
Wide Belts
One trend in fashion accessories for the current season is the use of wide belts, which provide a functional and fashionable way to cinch in loose clothing. Styling tips often include pairing a wide belt with high-waisted pants or skirts to create a flattering silhouette. Additionally, experimenting with bold buckles can add an extra element of interest to an outfit.
Wide belts come in various materials such as leather, suede, and fabric, providing versatility for different occasions. They can be used to dress up an outfit for formal events or add a touch of sophistication to casual wear. Not only do they serve as a practical accessory by keeping clothing in place, but they also serve as an opportunity to incorporate personal style into an outfit. As we transition into discussing chain belts, it's important to note that this season's must-have accessories are all about adding unique touches that elevate any look.
Chain Belts
Chain belts have become a popular accessory choice among fashion enthusiasts, as they offer a unique and edgy look to any outfit. These versatile accessories can be styled in various ways, whether it's dressed up for a night out or paired with casual jeans and a t-shirt. Chain belts come in different materials, including gold, silver, and even colored chains, making them suitable for any occasion.
One of the best things about chain belts is their DIY customization potential. You can add your personal touch by attaching charms or pendants to the chain links or removing some links to adjust the length according to your preference. With so many creative options available, you can easily make your chain belt stand out from the rest. As we move on to braided belts in our discussion of must-have fashion accessories for the season, let's not forget how chain belts can instantly elevate any outfit with their unique style and versatility.
Braided Belts
Braided belts have been a classic accessory for many years and continue to be a popular choice among fashion enthusiasts due to their timeless style. These versatile belts come in different sizes, colors, and materials, making them suitable for both casual and formal occasions. Braided leather belts are particularly popular because they add texture and depth to any outfit while maintaining a sleek appearance.
Styling tips for braided belts include wearing them with high-waisted jeans or skirts to accentuate the waistline, layering them over long tops or dresses for added definition, or pairing them with shorts for a bohemian look. DIY tutorials on how to make your own braided belt at home can also be found online, allowing you to customize the color and design of your belt according to your personal taste. With so many styling options available, it's easy to see why braided belts remain a staple accessory in every fashionista's wardrobe.
Transition: Now that we've covered the versatility of braided belts as an essential accessory this season, let's move on to another must-have item: chic handbags.
Chic Handbags
A stylish handbag can be likened to a trusty companion, always by your side and ready to elevate any outfit. This season, chic handbags are a must-have fashion accessory that every woman should consider investing in. With their versatile designs and affordable options, they are perfect for adding a touch of sophistication to any wardrobe.
One popular trend this season is the oversized tote bag. These bags are not only practical but also stylish, providing ample space for all your daily essentials while making a statement with their bold designs. For those who prefer a more minimalist look, sleek crossbody bags are also an excellent choice. They offer both convenience and style, perfect for busy days on the go.
When it comes to colors and materials, neutral tones like beige and black continue to dominate the scene. However, bold pops of color such as bright reds and blues are also making an appearance this season. As for materials, leather remains a classic choice that never goes out of style while woven styles add an interesting texture to any outfit. Whatever your personal preference may be, there is sure to be a chic handbag that suits your style this season.
Frequently Asked Questions
What are some affordable options for these fashion accessories?
When accessorizing for different occasions, consider affordable options such as DIY ideas and purchasing from discount stores like H&M or Forever 21. These stores offer trendy options suitable for work or casual wear.
How do I know which accessories will complement my personal style?
Finding inspiration and exploring individual style can be daunting. According to a survey by Statista, 57% of women feel overwhelmed by fashion choices. To find accessories that complement your personal style, experiment with different styles and seek inspiration from fashion influencers and trendsetters.
Can these accessories be worn year-round or are they only suitable for the current season?
When considering fashion accessories, it's important to consider their styling versatility. Some accessories may have a seasonal appeal, while others are timeless and can be worn year-round. It ultimately depends on personal preference and the specific accessory in question.
Are there any specific care instructions for maintaining the quality of these accessories?
To ensure longevity and durability of fashion accessories, it is crucial to follow material care instructions. Cleaning tips vary based on the type of accessory, but proper maintenance can extend their lifespan and preserve their quality.
What are some alternative ways to style these accessories beyond the suggested outfit combinations in the article?
Accessorizing with statement pieces offers endless possibilities for creative DIY accessory ideas. Experiment with mixing and matching different accessories to create unique looks that showcase your personal style. Don't be afraid to step outside of the suggested outfit combinations and make a statement all your own.