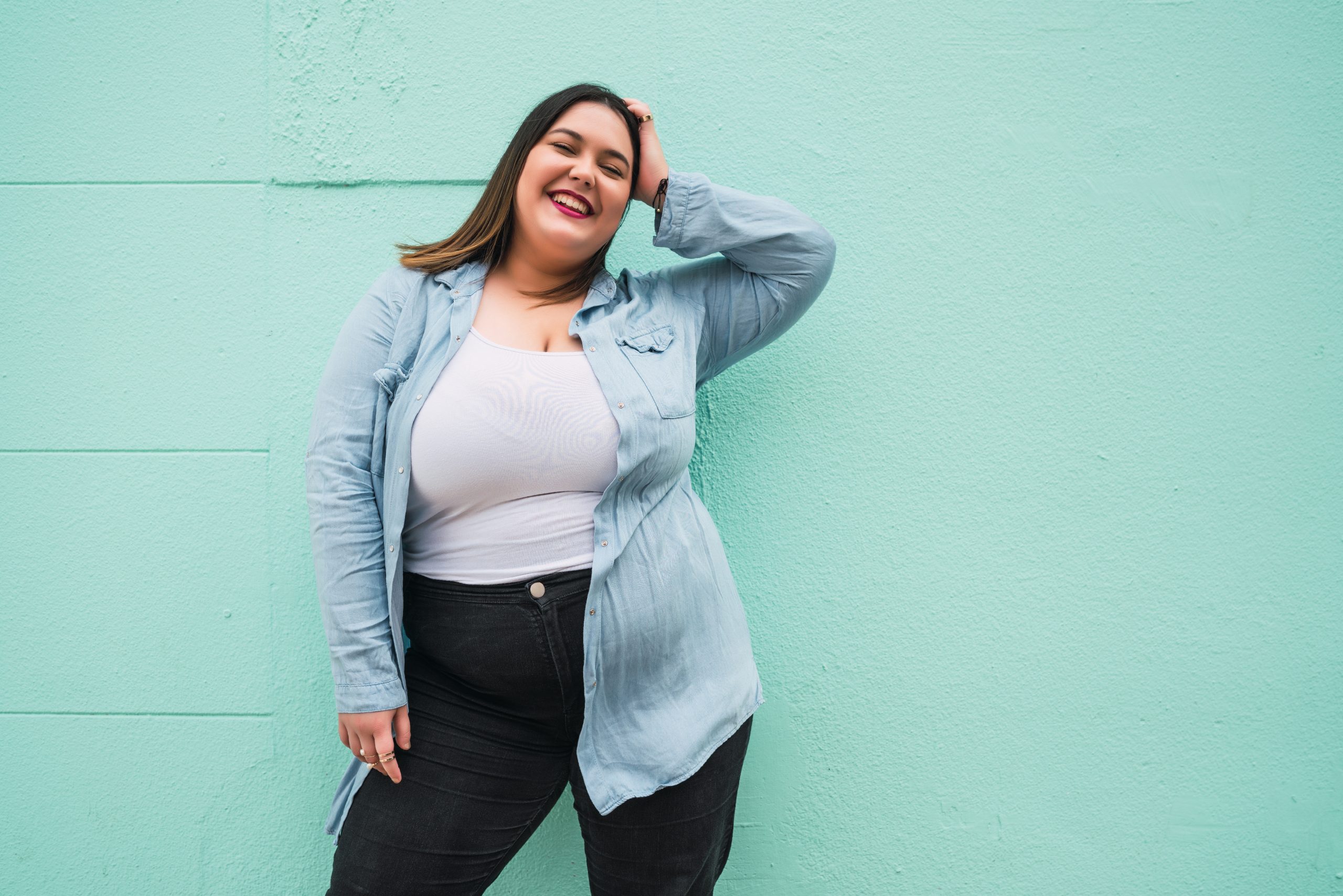 Stylish Plus-Size Clothing For Curvy Women
Are you tired of searching for fashionable clothing that caters to your beautiful curves? Look no further! We have the perfect solution for you. In this article, we will guide you through a world of stylish plus-size clothing options designed specifically for curvy women like yourself.
When it comes to dressing up, we understand the importance of feeling confident and comfortable in your own skin. That's why we have curated a collection of flattering dresses that will make heads turn at every occasion. From elegant evening gowns to chic summer dresses, our range has got you covered.
Not just limited to dresses, our selection also includes trendy tops that effortlessly elevate your fashion game. Pair them with our fashion-forward bottoms and create stunning outfits that showcase your personal style.
And let's not forget about swimwear! Our collection features flattering swimsuits that embrace your curves and make you feel fabulous on those beach days.
To complete your looks, we have versatile layering pieces and accessories that add an extra touch of style all year round.
We believe that confidence starts from within, which is why we offer confidence-boosting lingerie and shapewear options designed to enhance your natural beauty.
Get ready to embrace your curves in style with our guide to stylish plus-size clothing for curvy women.
Flattering Dresses for Every Occasion
Looking for a dress that flatters your curves and suits every occasion? We've got you covered with our stylish collection of plus-size dresses! Whether you're attending a summer wedding or heading to the office, we have the perfect options for you.
For those summer weddings, our collection features a wide range of flattering dresses that will make you feel confident and beautiful. From flowy maxi dresses in vibrant prints to elegant A-line styles in soft pastels, we guarantee you'll find something that complements your figure and makes heads turn. Our designs are carefully crafted to accentuate your curves in all the right places while providing comfort and breathability during those warm outdoor celebrations.
When it comes to workwear, we understand the importance of looking professional without compromising on style. Our selection includes chic and sophisticated dresses that are tailored to perfection. Opt for classic wrap dresses or sheath silhouettes in timeless colors like navy or black. These versatile pieces can be easily dressed up with blazers and heels or dressed down with flats for a more casual look.
No matter the occasion, our collection of stylish plus-size dresses ensures that you'll always feel confident and fashionable. Explore our range today and discover the perfect dress to showcase your curves!
Stylish Tops for Effortless Fashion
When it comes to effortless fashion, you'll find that wearing the right tops can make all the difference. Effortless layering is a key trend for curvy women, allowing you to create stylish outfits with ease. To achieve this look, consider these three must-have tops:
Flowy tunics: A flowy tunic is a versatile piece that can be dressed up or down for any occasion. It skims over your curves beautifully and provides a relaxed yet chic vibe. Pair it with leggings or skinny jeans for a polished look.
Wrap blouses: Stylish blouses with wrap details are perfect for curvy women. They accentuate your waistline and create an hourglass silhouette while adding a touch of elegance to your outfit. Choose one in a vibrant color or trendy print to make a statement.
Peplum tops: Peplum tops are incredibly flattering for curvy figures as they cinch at the waist and flare out over the hips, creating an enviable hourglass shape. These tops can be worn casually with jeans or dressed up with tailored pants or skirts.
By incorporating these effortless layering pieces and stylish blouses into your wardrobe, you'll effortlessly elevate your fashion game while embracing and celebrating your curves.
Trendy Bottoms for a Fashion-forward Look
To achieve a fashion-forward look, it's essential to have trendy bottoms that complement your personal style. Whether you prefer a classic silhouette or a more edgy vibe, there are plenty of options available. Flared pants are a versatile choice that can be dressed up or down depending on the occasion. They create an elongating effect and add a touch of elegance to any outfit. Pair them with a fitted blouse for a sophisticated look or with a casual tee for a more relaxed vibe.
For those who want to make a statement, leather skirts are the way to go. They exude confidence and bring an element of rock-chic to your wardrobe. A black leather skirt is timeless and can be worn year-round, while colored leather skirts offer an unexpected pop of color.
To help you explore these fashionable options, here is a handy comparison table:
| Trendy Bottoms | Style |
| --- | --- |
| Flared Pants | Classic |
| Leather Skirts | Edgy |
When it comes to trendy bottoms, flared pants and leather skirts are perfect choices for curvy women seeking effortless fashion-forward looks. Embrace these stylish pieces and let your personal style shine through!
Flattering Swimwear for a Day at the Beach
Get ready to hit the beach in flattering swimwear that will make you feel confident and fabulous all day long. When it comes to plus-size options, there are plenty of stylish choices available. If you prefer a one-piece, there are numerous options that are designed to flatter your curves. Look for styles with ruching or tummy control panels to smooth and shape your midsection. A deep V-neckline can draw attention upwards, highlighting your décolletage and elongating your torso. Choose bold prints or vibrant colors to add a touch of fun to your beach look.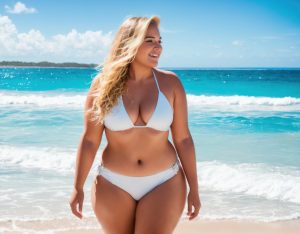 If you're more comfortable in a two-piece, don't worry! There are trendy options for you too. High-waisted bikini bottoms are a great choice as they provide coverage while accentuating your waistline. Pair them with a cute crop top or tankini for a fashionable ensemble. You can also opt for a tankini with built-in support and adjustable straps for added comfort and versatility.
No matter which style you choose, the most important thing is that you feel confident and beautiful in your swimwear. Don't be afraid to experiment with different cuts, patterns, and designs until you find the perfect fit for you. Remember, the beach is all about having fun and enjoying yourself, so embrace your curves and rock that swimsuit!
Versatile Layering Pieces for Year-round Style
Layering is a key element in creating a versatile and stylish wardrobe that can be worn throughout the year, allowing you to easily transition from one season to another. By incorporating stylish layering pieces into your outfit, you can elevate your overall look while staying comfortable and fashionable.
Here are five essential basics for stylish layering:
Cardigans: A lightweight cardigan is perfect for adding a cozy layer to any outfit. Opt for neutral colors like black or beige for maximum versatility.
Scarves: Scarves not only add warmth but also serve as a fashion statement. Choose different patterns and textures to enhance your style.
Denim Jackets: A classic denim jacket is a must-have in any wardrobe. It adds an edgy touch to your outfit while providing an extra layer of warmth during chilly evenings.
Turtlenecks: Turtlenecks are not only trendy but also practical. They can be layered under dresses, sweaters, or blazers for added warmth and style.
Leather Jackets: A leather jacket instantly adds an element of coolness to any ensemble. Whether paired with jeans or a dress, it's a timeless outerwear option that transcends seasons.
With these stylish layering pieces, you can create endless combinations that will keep you looking chic and fashionable all year round.
Accessorize to Complete Your Look
When it comes to completing your look, don't forget about the power of accessories. Make a statement with bold jewelry that adds a touch of personality and flair to any outfit. Add some glamour with belts and scarves that not only cinch in your waist but also elevate your style game. And stay on-trend with stylish handbags that are both functional and fashionable, allowing you to carry all your essentials while looking effortlessly chic.
Make a Statement with Bold Jewelry
Rock your curves and shine bright with bold jewelry that will make heads turn. When it comes to accessorizing, don't be afraid to go big and bold. Bold earrings are a great way to draw attention to your face and add a touch of glamour to any outfit. Opt for oversized hoops or dangling chandelier earrings in vibrant colors or metallic finishes. These statement pieces will instantly elevate your look and make you feel confident and stylish. Another must-have accessory is a statement necklace. Whether you prefer chunky chains, sparkling gems, or intricate designs, a bold necklace can transform even the simplest of outfits into something extraordinary. Pair it with a basic top or dress to let the necklace take center stage and show off your unique style. Don't be afraid to experiment with different styles and materials – after all, fashion is all about self-expression!
Add Some Glamour with Belts and Scarves
To truly elevate your look, don't underestimate the power of belts and scarves to add a touch of glamour. These glamorous accessories are perfect for plus-size fashion, allowing you to enhance your curves while staying stylish. Belts can cinch in your waist and create an hourglass silhouette, instantly transforming any outfit. Opt for wide belts with statement buckles or embellishments to make a bold statement. Scarves, on the other hand, can be draped around your neck or tied as a headband for a chic and sophisticated look. They come in various patterns and textures that can complement any ensemble. Take a look at the table below for some ideas on how to style belts and scarves to achieve that glamorous vibe.
| Outfit | Belt Style | Scarf Style |
| --- | --- | --- |
| Little Black Dress | Wide black belt | Silk patterned scarf |
| Denim Jacket and Jeans | Embellished gold belt | Chunky knit scarf |
| Flowy Maxi Dress | Braided leather belt | Floral print scarf |
| Tailored Blazer and Trousers | Skinny metallic belt | Animal print scarf |
| Casual T-shirt and Skirt | Colorful woven belt | Lightweight silk scarf |
Remember, accessorizing with belts and scarves is all about experimentation – have fun mixing and matching different styles to find what works best for you!
Stay on-trend with Stylish Handbags
Get ready to make a fashion statement with trendy handbags that will complete any outfit. Whether you're heading to work or going out for a night on the town, having the perfect handbag can elevate your style game. Here are some reasons why stylish handbags are a must-have for curvy women:
They add a touch of sophistication: A chic handbag instantly adds an air of elegance and sophistication to any look.
They offer functionality: With spacious compartments and pockets, these bags not only look good but also provide ample space for all your essentials.
They complement your accessories: Pairing your handbag with on-trend sunglasses and fashionable footwear creates a cohesive and polished ensemble.
So, don't forget to invest in stylish handbags that will keep you on-trend while enhancing your overall style.
Confidence-Boosting Lingerie and Shapewear
If you're looking to enhance your curves and boost your confidence, lace bras are a great option. Not only do they provide support and comfort, but the delicate lace detailing can also add a touch of femininity to your lingerie collection. For those wanting a smooth and seamless look, control panties are essential. These undergarments help to shape and sculpt your figure while providing all-day comfort. Lastly, if you want to enhance your silhouette and create an hourglass shape, waist cinchers are the way to go. These garments wrap around your waist, providing extra support and accentuating your curves for a more defined look.
Accentuate Your Curves with Lace Bras
Enhance your curves and feel confident with lace bras designed for curvy women. When it comes to stylish plus-size clothing, a well-fitting lace bra can make all the difference. Here are some lace bra styling tips to accentuate your curves:
Opt for a balconette style: This type of bra lifts and shapes your breasts, creating a flattering silhouette.
Look for wide straps: Wide straps provide extra support and prevent uncomfortable digging into your shoulders.
Choose a color that flatters your skin tone: Whether you prefer classic black or pretty pastels, finding the right color can boost your confidence.
With these tips in mind, embrace your curves and show off your feminine side with lace bras that not only provide comfort but also enhance your natural beauty. You deserve to feel beautiful from the inside out!
Smooth and Shape with Control Panties
Smooth and shape your silhouette effortlessly with control panties that provide a seamless foundation for any outfit, giving you the confidence to rock that bodycon dress at your upcoming event. Control panties are designed to smooth out any unwanted lumps and bumps, creating a sleek and streamlined look. They are made from a combination of stretchy and breathable fabrics that offer support without sacrificing comfort. These panties feature a high-waisted design that not only helps to flatten the tummy but also provides gentle shaping for the hips and thighs. With their discreet construction, control panties can be worn under any type of clothing without anyone knowing your secret. So go ahead, embrace your curves and feel fabulous in every outfit with the help of these amazing smoothing and shaping control panties.
Enhance Your Silhouette with Waist Cinchers
Looking to take your curves to the next level? Say goodbye to control panties and hello to waist cinchers! These magical garments are designed to enhance your silhouette by cinching in your waist and creating an hourglass figure.
Waist cinchers offer a multitude of benefits, one being waist training. By wearing a waist cincher regularly, you can gradually reduce the size of your waist over time. Not only will it give you that coveted hourglass shape, but it can also improve your posture and provide back support.
When choosing the right waist cincher for you, it's important to consider factors such as material, size, and level of compression. Opt for a breathable fabric that won't irritate your skin during extended wear. Additionally, ensure that you select the correct size for a comfortable fit without sacrificing effectiveness.
So why wait? Take control of your curves with a waist cincher and unleash your inner bombshell!