Vintage-Inspired Dresses For Retro Style Lovers
Are you ready to step back in time and unleash your inner retro style lover? Get ready to swoon over vintage-inspired dresses that will transport you to the iconic eras of the past. These dresses are not just clothing, they are a gateway to reliving the glamour and elegance of bygone decades. From the flirty and feminine 1950s silhouettes to the edgy mod styles of the swinging 1960s, there is a dress for every nostalgic fashionista. Embrace your bohemian side with flowing maxi dresses inspired by the free-spirited vibes of the 1970s or channel your inner Gatsby with dazzling flapper looks from the roaring 1920s. Don't forget about the sultry pin-up styles of the wartime 1940s or indulge in Victorian romance for a touch of timeless elegance. And let's not overlook Hollywood's golden era with its glamorous gowns straight out of a silver screen fantasy. So get ready to turn heads and make a statement with these vintage-inspired dresses that celebrate retro style like no other!
The Iconic 1950s Look
The iconic 1950s look, with its timeless elegance and undeniable charm, continues to captivate retro style enthusiasts. Exploring modern interpretations of this nostalgic fashion trend allows us to indulge in a bit of nostalgia while still embracing contemporary styles.
When it comes to vintage-inspired dresses from the 1950s, there are several key elements that define the era's iconic look. The hourglass silhouette was highly favored during this time, with fitted bodices and full skirts that emphasized a woman's curves in all the right places. Dresses often featured sweetheart necklines or delicate Peter Pan collars, adding a touch of femininity and grace.
Prints were also a prominent feature of 1950s fashion. Polka dots, gingham checks, and floral patterns were popular choices for dresses, exuding a cheerful and playful vibe. Fabrics such as cotton and taffeta were commonly used for their durability and ability to hold structured shapes.
Modern interpretations of the 1950s look incorporate these classic elements while adding contemporary twists. Designers experiment with different lengths, sleeve styles, and fabric combinations to create unique pieces that pay homage to the past while staying relevant in today's fashion landscape.
For retro style lovers who appreciate the allure of bygone eras, vintage-inspired dresses from the 1950s offer an opportunity to embrace nostalgia without sacrificing modern sensibilities. Whether for special occasions or everyday wear, these dresses capture the essence of an iconic era while allowing you to express your individuality in a truly timeless way.
Channeling the 1960s Mod Style
Embodying the spirit of a bygone era, these chic dresses transport you straight into the groovy world of 1960s Mod style. With their bold prints and vibrant colors, these vintage-inspired dresses are perfect for those who want to channel the iconic fashion of this decade.
The 1960s Mod style was all about embracing a youthful and modern look. It was characterized by mini skirts, geometric patterns, and bold color combinations. These dresses capture that essence perfectly, with their A-line silhouettes and playful designs.
To complete your 1960s Mod look, pair these dresses with knee-high boots. This footwear choice not only adds an extra touch of retro flair but also elongates your legs for a sleek and stylish appearance. Opt for boots in neutral shades like black or brown to let the dress take center stage, or go all out with brightly colored boots to make a statement.
Whether you're attending a themed party or simply want to add some vintage charm to your everyday wardrobe, these vintage-inspired dresses will have you looking like a true fashionista from the swinging sixties. So go ahead and embrace the mod vibes with confidence!
Embracing the Bohemian Vibes of the 1970s
Get ready to transport yourself back to the 1970s and embrace the free-spirited bohemian vibes with flowing maxi skirts, floral prints, and fringe details. The 70s boho fashion was all about expressing your individuality and embracing a laid-back, carefree style. Think long, flowy dresses in earthy tones like mustard yellow, rusty orange, and deep burgundy. Pair them with wide-brimmed hats and suede ankle boots for a true hippie-inspired look.
Floral prints were a staple of 70s fashion, so don't be afraid to go bold with large blooms in vibrant colors. Opt for maxi dresses or skirts adorned with daisies, sunflowers, or paisley patterns. These prints add a touch of whimsy to your outfit while capturing the essence of the era.
Fringe details are another iconic element of 70s boho fashion that can instantly elevate your look. Choose tops or jackets adorned with fringe along the sleeves or hemline for a playful and retro vibe. You can also incorporate fringe into accessories like handbags or boots for added flair.
To complete your bohemian ensemble, accessorize with chunky jewelry such as statement necklaces or oversized hoop earrings. Don't forget to let your hair down in loose waves or tousled curls for that effortlessly chic boho look.
Embracing the bohemian vibes of the 1970s allows you to express your unique style while channeling an era known for its free-spiritedness and love for self-expression through clothing choices. So go ahead and embrace this groovy aesthetic by incorporating hippie-inspired clothing into your wardrobe!
The Timeless Elegance of the 1920s Flapper Look
Channeling the roaring 20s, immerse yourself in the everlasting allure of the flapper look, where fringe and feathers dance to a rhythm that echoes through time. The timeless fashion of the 1920s flapper look continues to captivate retro style lovers today, showcasing the evolution of fashion over the decades.
Dazzling Dresses: Slip into a sleek and figure-hugging dress adorned with exquisite beading and sequins. The drop-waist silhouette flatters every body type, exuding confidence and elegance.
Statement Accessories: Complete your ensemble with statement-making accessories that epitomize the opulence of the era. Adorn your head with an embellished headband or a feathered fascinator for a touch of glamour. Long strands of pearls cascading down your neck add a touch of sophistication.
Sassy Shoes: Step out in style with T-strap heels or Mary Jane pumps, both popular shoe choices during the 1920s. These shoes not only provide comfort but also elevate any outfit with their chic design.
The 1920s flapper look represents an important milestone in fashion evolution, breaking away from traditional Victorian styles and embracing a more daring and liberated aesthetic. Its timeless appeal endures as it embodies female empowerment and embraces individuality through its bold fashion choices. So go ahead, embrace this iconic look and transport yourself back to an era filled with glitz, glamour, and unparalleled elegance!
Rocking the Retro Pin-Up Style of the 1940s and 1950s
Exuding an air of nostalgia, the retro pin-up style of the 1940s and 1950s effortlessly captures the essence of feminine allure with its figure-flattering silhouettes and playful prints. Embracing this fashion trend allows you to step back in time and channel your inner bombshell.
When it comes to rocking the retro pin-up style, vintage-inspired dresses are a must-have in your wardrobe. These dresses feature cinched waists, full skirts, and sweetheart necklines that emphasize your curves in all the right places. Pair them with some peep-toe heels and a bold red lip for a complete look that oozes sophistication and glamour.
What sets this style apart is its attention to detail. From polka dots to cherries, retro pin-up dresses often feature fun prints that add personality to your outfit. The vibrant colors and charming patterns transport you back to an era where elegance was key.
Incorporating elements of vintage fashion into your everyday attire not only allows you to express your unique sense of style but also pays homage to a bygone era. So go ahead, embrace the retro pin-up style with confidence and let these timeless pieces be a reflection of your individuality.
The Romantic Victorian Era
During the Romantic Victorian Era, women's fashion was characterized by corsets that cinched their waists tightly, symbolizing the restrictions and limitations placed on their lives. But beyond the physical constriction, Victorian fashion also exuded an air of romance and elegance. Imagine yourself transported back in time to this enchanting era: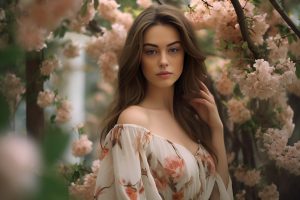 As you stroll through a lush garden, you are adorned in a beautiful Victorian-inspired dress with delicate lace details and puffed sleeves. The soft pastel colors of your ensemble create a vision of ethereal beauty.
Inside a grand ballroom, you find yourself twirling across the dance floor in a voluminous skirt made from luxurious silk fabric. The intricate embroidery and beading catch the light as you gracefully move to the music.
Back at home, your living space reflects the same romantic aesthetic as your wardrobe. Picture vintage-inspired furniture adorned with ornate carvings and plush velvet upholstery. Delicate china tea sets and floral wallpaper transport you to another time.
Your bedroom is transformed into a haven of opulence with an intricately carved canopy bed draped in sheer curtains. A vanity table covered in gleaming silver trinkets holds your collection of antique jewelry.
The Romantic Victorian Era not only influenced fashion but also left its mark on home decor, creating an atmosphere that is both nostalgic and timeless.
Stepping into the Glamorous 1930s Hollywood Era
Step into the glamorous world of 1930s Hollywood with bias-cut gowns that drape elegantly on your figure. Embrace the old Hollywood glamour and indulge in luxurious satin fabrics that will make you feel like a star. Complete your look with statement accessories and don't forget to style your hair in classic finger waves for the ultimate retro chic vibe.
Bias-cut gowns that drape elegantly
Get ready to turn heads with our vintage-inspired bias-cut gowns that effortlessly drape over your curves for an elegant and timeless look. These dramatic evening wear pieces are reminiscent of the glamorous 1930s Hollywood era, where stars like Greta Garbo and Marlene Dietrich ruled the silver screen. The bias-cut technique used in these gowns creates a flattering silhouette that hugs your body in all the right places, accentuating your natural shape. Whether you're attending a red carpet event or walking down the aisle, our vintage inspired wedding gowns will make you feel like a true Hollywood starlet. With their luxurious fabrics and intricate detailing, these gowns exude elegance and sophistication. Step into the past with our bias-cut gowns and embrace a retro style that never goes out of fashion.
Old Hollywood glamour and satin fabrics
Immerse yourself in the allure of Old Hollywood glamour as you slip into our satin gowns that will make you feel like a true starlet, with their luxurious fabric and exquisite detailing. Did you know that satin was a popular choice among 1930s movie stars, adding an extra touch of elegance to their red carpet looks?
Indulge in the opulence of silk and lace, as these vintage-inspired dresses embrace the timeless beauty of bygone eras. Our collection features delicate lace overlays and smooth silk linings that create a stunning contrast, capturing the essence of old-world femininity.
To complete your retro ensemble, don't forget to accessorize with vintage-inspired accessories. From elegant pearl necklaces to beaded clutch bags, these finishing touches will transport you back in time.
So why wait? Step into the spotlight and channel your inner screen siren with our Old Hollywood-inspired satin gowns and vintage accessories. Become a true starlet and captivate everyone with your timeless beauty.
Statement accessories and finger waves
Now that we've explored the allure of Old Hollywood glamour and the elegance of satin fabrics, let's move on to another aspect that will truly complete your retro-inspired look. To achieve an authentic vintage style, statement accessories and finger waves are essential. These fascinating hair accessories can instantly transport you back in time, adding a touch of glamour and sophistication to any outfit. Whether it's a bejeweled headband or a feathered hair clip, these accessories will elevate your look and make you feel like a true starlet from the golden era. And don't forget about vintage-inspired makeup techniques! With perfectly arched eyebrows, winged eyeliner, and bold red lips, you'll truly embody the timeless beauty of yesteryears. So go ahead and embrace the charm of statement accessories and finger waves, complemented by vintage-inspired makeup techniques for an unforgettable retro style.